Top 10 Reasons to buy InterBilling
Full automatic scheduled bills preparation (with no user intervation)
Automatic export and import of CDR information, operator interexchange, payments
Automatic scheduled sending of call details reports by e-mail to clients
Automatic currency rate determination
On-line tarrification and re-tarrification
Powerful messaging system. Notification about erroneous user actions, new or undetermined station numbers appearing, operation results notification, monitoring the health status of Hard Disk Drives (HDD) for preventing data loss and predicting possible drive fail
Ability to redirect notification messages to mobile phone or pager
Unlimited Rating, Services and Discount Models
Built-in powerful Report Engine (InterReport)
Integration with other software products from Interactive Systems, Ltd.
Features and Specifications
Description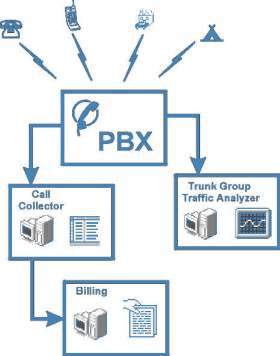 Comprehensive PBX Call Management and Billing System specially designed for telephony operator companies and includes three separate modules: Call Collector, Trunk Group Traffic Analyzer and Billing
Call Collector (Jerelo)
Call Collector - serve for call data collection and supports wide range of different PBX equipment in the same network.
Запис даних в базу - необмежена кількість (версія 4.0 SQL та вище)
supports real-time (IMMEDIATE) and by request (REPORT) recording
importing call records from text files and other sources
backup and restoring tools
built-in notification then during some long period of time were was no data come from PBX
customization COM-port parameters and transmission speed, TCP/IP communication parameters
call tracking both in terminal window and in database
visual and optional sound notification during call receiving and recording
client-server
multi-user
multiple security level
Billing
Billing - performs call analysis, authentication, tariffication, billing, payments tracking, report generation.
multiple level (tree-like) customers database structure with up-to-down inheritable properties (subscriber payees, services, tariffs, required reports etc.)
multiple level (tree-like) zones database structure, such as unknown, local (divided by incoming and outgoing), national, international etc., with up-to-down inheritable properties (tariff rates)
multiple Carriers and Tariff rates
on-line/off-line customer calls processing (authentication and tariffication)
multiple currency support
currency rates database
automatic importing call records from Call Collector for Billing analysis
call records data analysis with disclosure outgoing calls with unknown destination or appearing new customer phone numbers
treatment of incoming, internal, transferred, multi portion and abandoned calls
automatic billing with registering bills in database
supports fully automatic scheduled billing and reporting for each customer
optional "interactive tariffication" mode (for real-time client financial balance tracking)
various detailed reports with cost and traffic analysis (on customer demand)
built-in custom report generator
unique report format with multiple format export ability (html, text, csv, tab delimited, jpeg)
client payments tracking
optional notification about critical value of customer balance (in on-line processing)
reliable messaging system reduce erroneous user actions
client-server
multi-user
multiple security level
Compatibility
Harris 20-20 (Harris Corp.)
Coral (Tadiran)
Meridian (Nortel)
Hicom 100 - 350E (Siemens)
KX-TD1232 (Panasonic)
AXE-10 (Ericsson)
Business Phone 250 (Ericsson)
Tenor VoIP MultiPath Switch (Quintum Technologies, Inc.)
We are ready to co-operate with any PBX producers to make billing software adapted for their stations (see international co-operation section)
Technical Requirements
Supported Operation Systems:
Windows NT/2000/XP/2003 (recommended)
Робочі місця:
Windows 95/98/ME (not recommended)
Hardware:
Minimal configuration - PENTIUM 200 MMX/ 64 RAM/ HDD 4 GB (configuration for normal operation with maximal traffic about 100 000 CDRs/month)
Tested configuration - PENTIUM II 350/ 512 RAM/ HDD 120 GB (configuration for normal operation with maximal traffic about 20 000 000 CDRs/month)